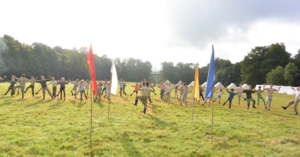 Date :
mardi 26 juillet 2022 (13:00 -12:00)
mardi 2 août 2022 (12:00 -12:00)

Le Camp du Soleil est un camp d'été ouvert aux jeunes de 10 à 16 ans. Un grand moment pour se rencontrer dans la joie et la bienveillance et grandir en responsabilité vis-à-vis de soi même et du monde.
Shambhala Sun Summer Camp - July 26-August 2
Sun Camp takes place in an open field where campers take time away from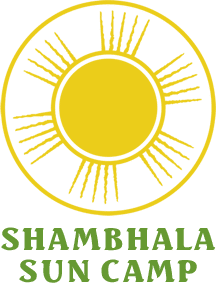 their busy day-to-day lives to experience living simply in a natural environment. Campers live in tents, assist in the preparation of food and in the maintenance of camp, and live with one another. Sun Camp draws on military forms such as wearing a uniform and raising flags, which is based on the idea that discipline and camaraderie can be used to conquer aggression and produce peace and cheerfulness.
In addition, there are one or two meditation sessions a day, as well as hiking and other traditional camp activities like campfires (with marshmallows!) and singing, and a talent/skit night. At the end of Sun Camp we play a capture-the-flag game where discipline, teamwork, and a sense of humour are an absolute must! Living and practising together in this way, cooking, eating, working and playing together in a multicultural context, allows campers to get to know themselves, their world, and each other in a unique and genuine way.
Practical
Shambhala Sun Camp starts on Tuesday July 26th after lunch and ends on Tuesday 2nd August before lunch. Please take this into consideration for your travel plans.
Please register for this programme using our external registration system here: https://www.cognitoforms.com/ShambhalaSunCamp1/SunCampEuropeApplicationsMainPage
Cadet Command Workshop - Saturday 23rd July-Tuesday 26th July
The Cadet Command Workshop (CCW) is a three-day leadership training programme for 14 to 16-year-olds who have previously attended Sun Camp. The programme focuses on developing team-work skills and participants will need to help set up, and take care of the environment in which Sun Camp will take place. CCW is a way of preparing the ground before the younger participants arrive. To attend Cadet Command Workshop you must have also attended at least one previous Shambhala Sun Summer Camp and be able to attend Sun Camp afterwards.
Rites of Warriorship - Tuesday 2nd August-Thursday 4th August
The Rites of Warriorship is an opportunity for youths aged 16-21 years to face head on the transition into adulthood. Like the coming-of-age rituals of many societies, the proceedings of the Rites of Warriorship are mostly secret.
The program officially begins the day Sun Camp ends, but Rites of Warriorship participants who are eligible are strongly encouraged to attend the week long Sun Camp immediately before ROW. During the camp, ROW participants will be expected to look at themselves honestly and be compassionate with the younger participants. These activities are an integral part of becoming a compassionate, sane adult and a genuine warrior in the world.
Practical
CCW starts on July 23rd, after lunch. ROW starts August 2nd, after lunch. Please take this into consideration for your travel plans.
Important: each meal and each night outside the "Sun Camp, CCW and ROW" programmes needs to be registered at Dechen Chöling in order to assure your kids are well fed and have a place to sleep.
Requirement: Due to French legal requirements, either the parent or legal guardian of any participant must be staying in Dechen Chöling, or within a 20 minute drive. There are plenty of campsites and gites in the area. One person may act as legal guardian for maximum three people.
For more information, including dates, payment, prerequisites, and how to apply see: shambhalasuncamp.org or contact us at [email protected].

Please register for this programme using our external registration system here: https://www.cognitoforms.com/ShambhalaSunCamp1/SunCampEuropeApplicationsMainPage